My darling husband and I had a wonderful time last night at the California Academy of Science in San Francisco. Their Nightlife program, combined with SF Sketchfest meant that science was funny last night–for grown-ups only. The 21+ event was held at the California Academy of Science from 6 to 10pm, and included some pretty awesome guest speakers and comedians.
(We took this picture outside of the "Africa Hall" because my younger daughter has a slight obsession with Giraffes.  More on Georgie Giraffe's adventures later.)
After a quick tour of the California Academy of Science, and a stop at a few bars to check the signature cocktails, we decided to go to the "Probably Science" Podcast with Adam Savage and Paul and Storm.  It was a wonderful podcast, deliciously funny, and an opportunity to hear Adam Savage talk.  I never give up an opportunity to hear him when I can! 
It also introduced me to Paul and Storm–a comedy and music duo who sound like they're right up my alley.  I will definitely be following what they're up to after the Podcast.  Speaking of, I've never heard of "Probably Science" before, but I'll be looking into that, too.  Highlights included giving up Pomegranates, coming up with random album names (Love Tenure) and band names (Lens Funk), and laughing so hard and long my face hurt.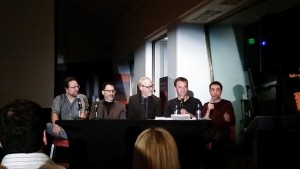 After the recording of the podcast, in the same room (Africa Hall), we were delighted to be in the audience for a few "Fake Ted Talks."  The first two were on how big the cosmos is, (spoiler alert: very big), and how long humans have been telling stories, (spoiler alert: very long).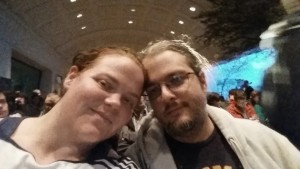 There was a Ted Talk from the future, fifty years from now–after the Earth was scorched, and the only humans who survived were from a Ted Talk.  Apparently, we elected Doug to be our Supreme leader and were working to put together what life was like back in the good old days.  (Food?)  Thanks, Emperor Doug!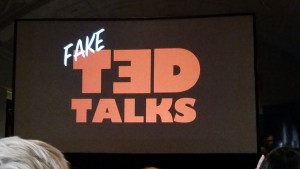 The next talk was about how to be a psychic.  Very enlightening.  I had no idea how to pronounce 'tarot,' or that ghosts really enjoy victorian designed parlour rooms.  Now I just need to figure out how to develop psychic skills.
Adam Savage took the stage again to end the Fake Ted Talks.  While he seemed to love his own jokes as much as the rest of us did, I was distracted by his Einstein-like hair.  (Glorious.  Positively glorious.)
All in all, it was a delightful evening.  I hope we'll have the chance to do it again, though I'm not sure we'd enjoy it as much if it wasn't for the Sketchfest aspect.  I fell asleep on the BART ride back to the East Bay, showing just how old I really am.  (We got home around 11.)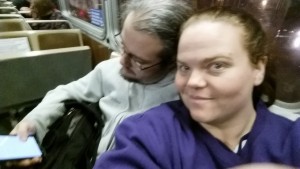 I took this pretty groovy picture of a statue in Golden Gate Park.  I thought it would look cool in the darkness, and had to put on my flash to get the look I wanted.  Thankfully, it came out pretty groovy.  I don't know much about it, though, and it was too cold and rainy to hang around and google it on our phones.  I'll have to go back another time (because I need an excuse to go back to the museums there) and check it out. 😉